Sterile Container Systems
The range of sterilization containers includes sizes 1/1, 1/2, 3/4, mini containers, flat containers and wide and long aluminum containers. Brushes, dental containers in common lid colors, from silver, blue, red, money (gold) to green and black. DM series, W, Stainless, A, M, cassette containers and disposal models are available as perforated model with filter or unperforated model with container label insert. A wide range of wire or mesh sieve baskets, silicone mats, identification labels and other accessories for the sterilization process complete the range.
Informations / Products
Disposal container, steel container, barrier, Teflon filter. Safety model, safety lids, colors, perforated bottoms, perforated trays, perforated and non-perforated lids. Sterile containers for sterilization of medical and veterinary instruments and implants.
Safety closure as well as colored identification labels available for the anodized aluminum containers. Brush dispensers, indicator labels, closure seals, sterile goods, sterile containers with paper filters, textile filters, sieve baskets are available as supplements.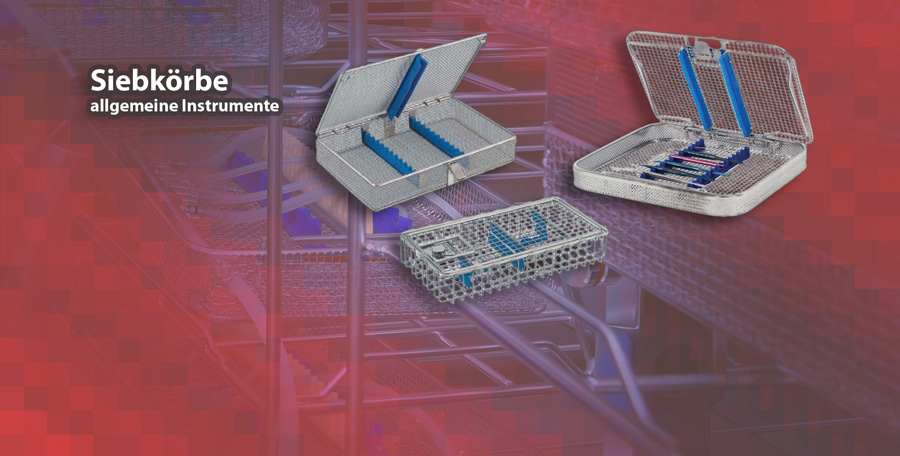 Company
We have specialized in the production of Sterile-containers and sieve-baskets .
The coloring of the container lids and safety lids makes it impossible to mix up the sterilized items. Almost all container bottoms models are perforated and come with sterilization filter or unperforated with sieve basket or silicone mat or insert cloths in blue / green.
‌‌‌‌‌‌ Web page
‌‌‌‌‌‌ Certificates
‌‌‌‌‌‌ Download area
‌‌‌‌‌‌ Instruction manuals
Due to the constantly growing demands on the market, our sterile container portfolio is constantly being expanded. Through our webshop / online store we would like to be present in the field of medical supplies / practice supplies in the future.
There are several options for sterilization containers with replaceable filters. Standard model container systems offer disposable paper filters or cloth filters for reusable use. Other series of filter containers are developed with Valve, PTFE Teflon filters or Bio Barrier cassettes, designed based on decades of experience in sterile supply of hospitals.
These containers consist of a "mechanical filtration system" and can be used with disposable paper filters or reusable PTFE Teflon filters. Digi-Med offers durable PTFE filters that can withstand at least 1200 sterilization cycles and up to 5000 cycles for professional use, which is about the life of the container itself.
Sterile container systems in the range are supplied with disposable or reusable replaceable filters. Standard containers have filter holders in the lid and base that must be filled with either disposable paper filters or permanent filters prior to sterilization. It is important to follow the manufacturer's instructions for preparing and packaging the sterilization container system to ensure effective sterilization of surgical instruments.
Sterile containers or sterile specimen containers are designed for sterilization of biologically contaminated instruments such as blood, urine, stool, peritoneal exudate, sputum, synovial fluid and biopsy specimens for laboratory analysis. The container is characterized by a number of features. Sterilization Containers with lifetime filters and ample accessories are designed for storing temperature tolerant medical instruments, surgical accessories, individual support tools or entire instrument sets for immediate use after sterilization.
Sterile container
‌‌

1/1 Container (580x280 mm / basic model)
‌‌

1/2 Container (285x280 mm)
‌‌

3/4 Container (465x280 mm)
‌‌

Container (300x138x65)
‌‌

Container (500x155x75)
‌‌

Large-Container (600x400 mm)
‌‌

Mini-Container (300x140 mm)
‌‌

Dental-Container (310x190 mm)
‌‌

Optics Container (250x60x50)
‌‌

Optics Container (450x70x70)
‌‌

Accessories such as filters and identification labels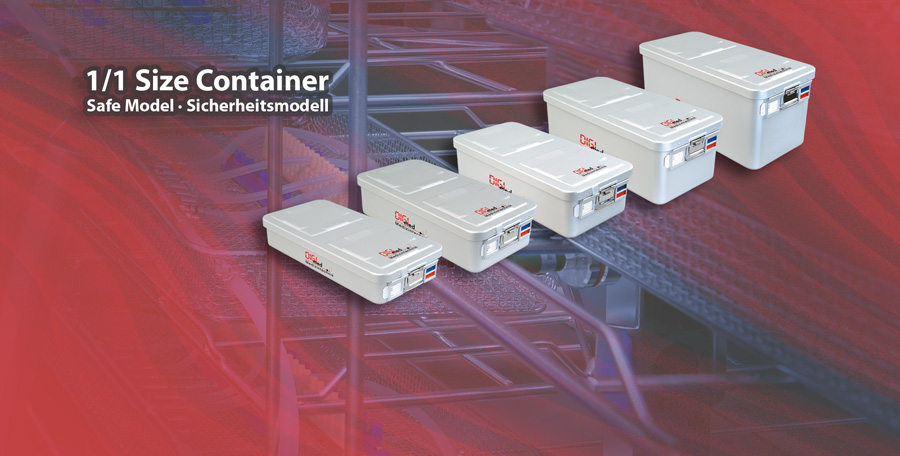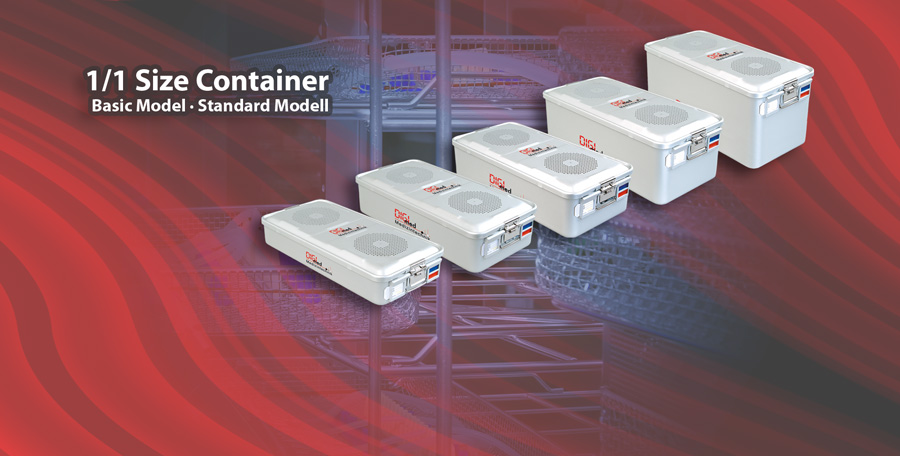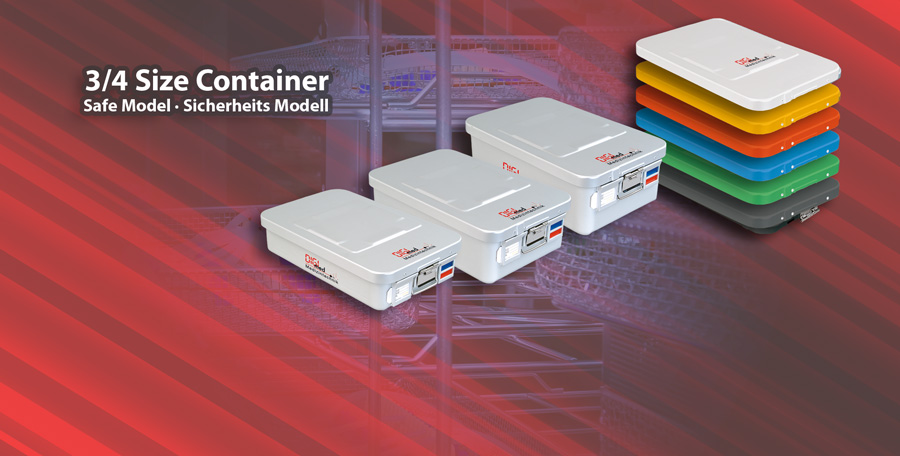 Contact / Approach
‌‌ Digimed Medizintechnik
Kreutzerstrasse 1
D-78573 Wurmlingen Germany
‌‌ Tel. +49(0)7461-9101172
‌‌ Fax. +49(0)7461-9101261
‌‌‌‌ Webseite: digi-med.de | orthopedics-implants.com
‌‌ e-Mail: info@digi-med.de
‌‌ Sozial Media: ‌‌‌‌ Twitter | ‌‌‌‌ LinkedIn | ‌‌‌‌ Xing | ‌‌‌‌ Skype